My entry for the Boy Scout's Blue and Gold Dinner took the cake, winning Best of Show. Supposedly I get a door prize, but they forgot to bring it Friday night. Lady Spud was supposed to secure it last night at the Scout's meeting, but still no prize. Just knowing that my cake placed first combined with the resultant accolades is sufficient (although an extra door can come in handy).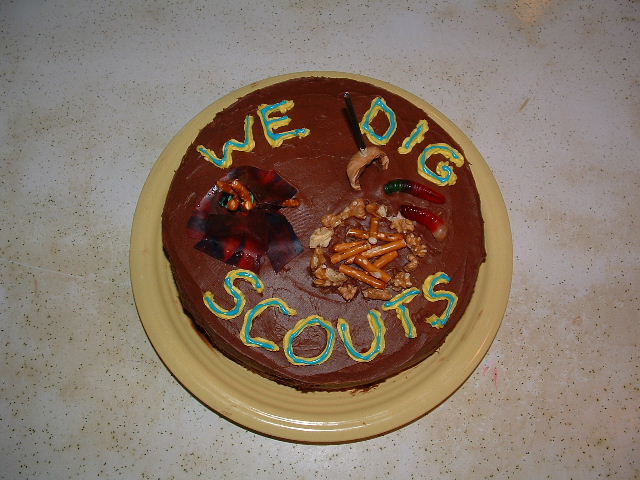 The blob to the left is a teepee, made from pretzel sticks and a fruit roll-up (tough to see from a top view). To the right of that is a campfire, unlit, with more pretzel sticks for the logs and walnut pieces representing rocks. Above that are two gummy worms and a shovel made with a walnut hull and lollipop stick (supplied by the youngster), hence the WE DIG SCOUTS.
I also put cut gummy worms and placed them in between the two cake layers. It was interesting to eat a gummy worm covered in chocolate frosting and cake crumbs. I'll have a year to come up with something that could top this entry, so I need to get started right away. There were about 4 other cakes, one with an interesting use of blue and yellow M&M's. One guy decorated his cake to look just like a Gameboy (original) - it didn't have anything to do with scouts but it was nicely done.
I don't recall any Blue and Gold dinners from my "yute", so it felt like the first time for me. The boy's grandparents drove in for the dinner, which was very nice of them since they did not get home until close to midnight.